[etichetta: Jetglow Recordings]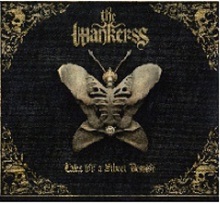 The Wankerss – Tales For A Sweet Demise
The Wankerss è una band veneta, attiva sin dal 2005, che arriva con "Tales For A Sweet Demise" all'esordio sulla lunga distanza. I quattro ragazzi di Padova (Lafayette a voce e chitarra, GG Rock alle chitarre, Memphiss alla batteria, Syracuse Hewitt al basso), suonano un disco di punk n'roll onesto e stradaiolo, come se ne facevano in gran quantita nella Los Angeles di metà anni '80 (L.A. Guns docet), o nei Paesi Scandinavi a metà anni '90 (Hellacopters, Turbonegro,Gluecifer e compagnia bella).

L'album è quindi un tripudio di riff di chitarra, ora ipercinetici, come in "Already Gone" e "Tryin' To Be Like You", o come nell'anthemica "Stuck (Just To See You Go)". Un pezzo come "Tie Myself", invece, con il contrasto tra chitarre ruggenti e refrain ultra-melodico, strizza l'occhio alle power ballads di marca losangelina. La chiusura è affidata a "Epitaph For The Broken Men", pezzo nel quale risalta l'abilità strumentale della band.

Insomma, nulla di nuovo sotto il sole, anche se i ragazzi suonano con grinta e perizia. Se siete appassionati dell'hard rock più grezzo, il disco merita la vostra attenzione.
Tracklist:
1. The Bitter Rise
2. Already Gone
3. Stuck (Just To See You Go)
4. Tie MySelf
5. New Flow Rising
6. The Wänkerss Got A War
7. Beyond The End Of The Line
8. The Sweet Demise
9. Tryin' To Be Like You
10. Epitaph For The Broken Men

- Sito Ufficiale The Wankerss
- Sito Ufficiale Jetglow Recordings
Giacomo Messina, 10/06/2012